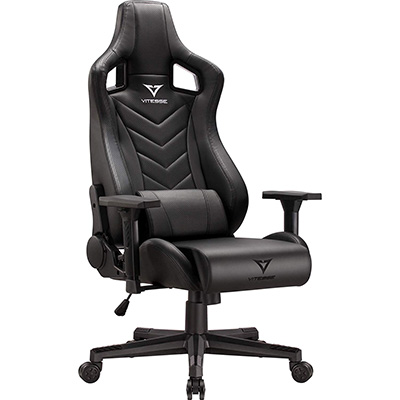 Vitesse Gaming Chair Review
January 4, 2019
As we already told you several times before, even though a known brand is important, it doesn't mean much. The truth is that you have well-know gaming chair manufacturers that are making all their sales because of their logo and not because of their quality and they are selling their gaming chairs at extremely expensive prices. 
However, we don't say that you shouldn't consider some of these well-known brands. What we do say s that you need to have your eyes open to good opportunities. And the truth is that we have been seeing many new gaming chair manufacturers entering the market at affordable prices. And not all of them are bad as not all of them are good. One of the best ones that we could find is Vitesse and we simply love their Vitesse Gaming Chair.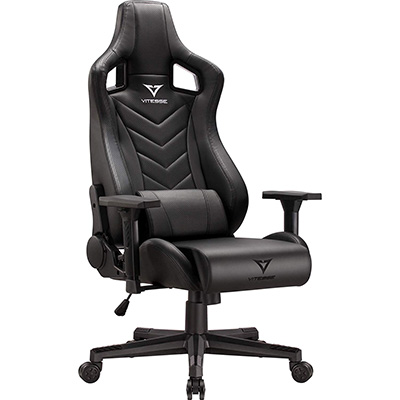 Click to Check Price on Amazon
The truth is that the Vitesse Gaming Chair has all the features that you need in a gaming chair. It has a beautiful design, delivers a good support, provides a great comfort, and allows you to adjust it to your own preferences and needs. But let's take a closer look at all these features.
With a beautiful and stylish design, the Vitesse Gaming Chair is an ergonomic gaming chair that is covered with a premium PU leather. Inside, you can expect to find a thicker back due to the padding it includes as well as a very comfortable bucket seat to ensure that you don't feel the pressure on your legs.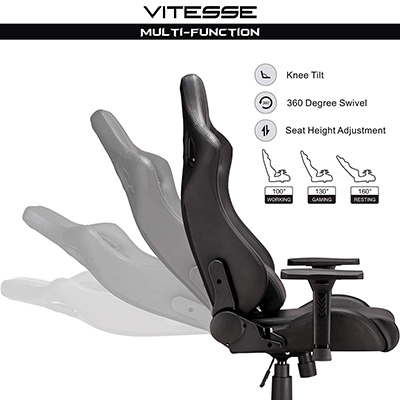 One of the things that we like about the Vitesse Gaming Chair is that it allows you a full customization. And since this is what allows you to be comfortable and well supported, this is a crucial factor to take into consideration. 
Discover the top console gaming chairs in 2018.
With the Vitesse Gaming Chair, you will be able to easily adjust the seat height, the backrest reclining angle between 90 and 180 degrees, and you'll be able to enjoy the 360 degrees swiveling. In addition, the Vitesse Gaming Chair also comes with a removable lumbar cushion and with a removable headrest pillow. So, you can position these the way you want to make sure that you are always comfortable and well supported while you are playing your favorite games.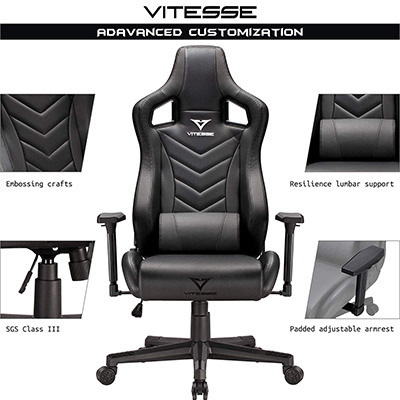 In addition, in case you are like most gamers, you will be glad to know that the Vitesse Gaming Chair includes wheels, So, you won't have any problems moving freely around the office while you are playing.
Are you looking for a Bluetooth gaming chair?
In terms of the assembly process, you don't have anything to worry about as well. The reality is that not only the instructions are well detailed as they are very clear. Besides, you can assemble the Vitesse Gaming Chair on your own. You won't even need the help of anyone else.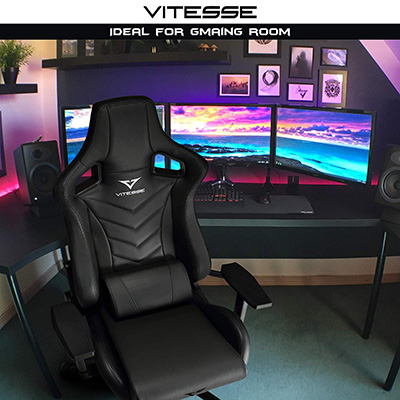 Overall, the Vitesse Gaming Chair is a great chair that delivers an optimal comfort and support and that allows you to play your games without any worries.
The Vitesse Gaming Chair has a maximum weight capacity of 300 pounds.